Kusuma Teknik is the Indonesian Representative of Carlsen Group. At Carlsen, we design and engineer our own key components, adding other proven technology from leading manufactures, to form our completely integrated dry bulk handling systems.
We specialize in pneumatic and mechanical loading and unloading systems for powders like cement, fly-ash, barite, bentonite, lime, and gypsum and alike. The Carlsen bulk handling systems can be provided for loading and unloading on board cement carriers and onshore applications.
CEMENT CARRIERS 
To meet specific project requirement, we supply both pneumatic and mechanical loading and unloading systems. The unloading capacities may range from 100 TPH for barge unloading systems to over 1200 TPH for large self-unloading ships. 
The self-unloading ships or SDCC have a dry material handling system which allows them to discharge independently of any harbour, side loading or unloading systems, and to keep control over loading and unloading logistics in any weather conditions.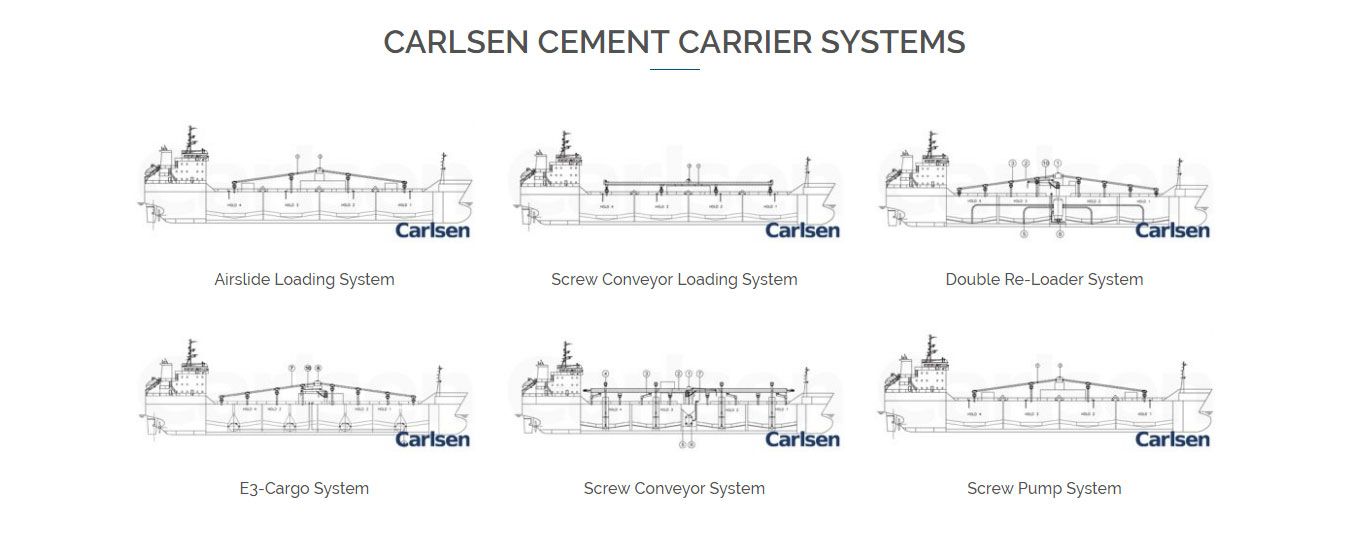 DRY BULK TERMINALS
We also offer a system to be installed on shore for the loading – unloading bulk materials from the vessel to the storage on shore. Dry Bulk Terminals or port terminals are handling and/or storing non-containerised dry bulk cargo. Dry bulk terminals handle materials such as Cement, Alumina, Kaolin, Fly Ash and other dry cargo. Each type of bulk material presents its own handling characteristics that determine the best solutions for transfer and storage. Numerous variations are possible such as; reloading directly from storage silo to bulk trucks without the need for separate distribution hoppers, unloading of ships/barges directly into bulk trucks, floating distribution terminals and many more. Please ask for the possibilities for your bulk conveying application.